Dimension Four Partner network
We believe that crafting best in class end-to-end solutions is best made by a collective team of experts, with complementary skills and services. Together, we push boundaries and drive digital transformation, fast tracking innovation and creating sustainable solutions.
Fueling innovation though great partnerships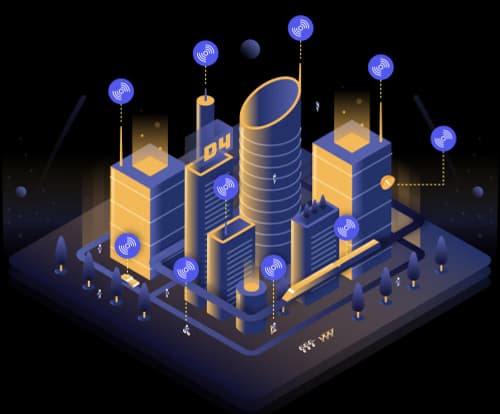 Partnership philosophy
Physical sensors will increasingly intersect with the world of software, jointly providing a vast array of possibilities, and in the midst of it we'll supply an API to enable it all. While IoT is set to impact the future of business, it is also a highly complex environment and with that as a background, and as firm believers of the new API economy, we are strongly advocating partnerships to drive innovation and create long lasting value.

As an API provider covering the IoT backend through a platform, and with that making data accessible, we typically work closely with complementary companies ranging from hardware suppliers and diagnostics specialists to companies working within the application layer building end-value applications on top of our platform, covering aspects such as analytics, visualization, and predictions through machine learning.
Get in touch for a partnership
Our partners qbee is a Norwegian software company delivering a SaaS device management solution for Linux and embedded Linux. This solution is used for various IoT and industry 4.0 projects. It features remote fleet management, over-the-air (OTA) software and application updates, monitoring as well as remote access through the built-in VPN.

Tvillingfabrikken is an early player in the development of digital twins for the industrial and logistics segment. In a market with relatively few players yet, we aim to develop a software platform for operating environments for digital twins. Digital twin technology is expected to revolutionize the way we plan, adapt, and control environments for production and logistics, and that is why we also call it the queen of Industry 4.0.

Memfault is the first cloud-based platform for connected device monitoring, debugging, and updating, which brings the efficiencies and innovation of software development to hardware processes. The company helps teams catch, triage, and fix bugs in the field before end-users notice them.

Altibox owns, operates and builds fiber optic cables connecting end-users to content and enterprises to the digital cloud. In Norway they have also built a nation wide IoT network (LoRaWAN) together with their partners and their network covers about 1 million households and 100 municipalities.

Mechatronics Innovation Lab AS is a National Center for Innovation, piloting and qualifying technology in the field of mechatronics and other related disciplines. MIL is also part of the national infrastructure for increased competence, the changing of production processes, products, services, and business models. Nordic Edge is a non-profit organisation working in close cooperation with private companies, municipalities and city administrations to promote solutions for smarter cities and communities. Our vision is Smart with a Heart.

Elteco offers products and solutions in electro, automation and IoT. The company was established in 1968 and situated in Porsgrunn, Norway where they also have their warehouse. Snowball Digital delivers product strategy and design from an experienced team. Our product engineering and growth marketing teams build and launch products. The combination of experience from software, media, and physical products makes us different.

The maritime cluster is a world leader in design, construction, equipment and operation of advanced vessels for the global ocean industries. In 2014, due to its unique global market position and its important contribution to Norwegian value creation, the cluster was granted the status of a Global Centre of Expertise.

The University of South-Eastern Norway (USN) is Norway's fourth largest university. It employs 1,700 people and offers an education to about 18,000 students.

GCE NODE is an industry-driven cluster for ocean technologies. Based in Southern Norway, GCE NODE comprises approximately 100 companies, most of which constitute a world-leading value chain of suppliers to the oil & gas, offshore, energy and maritime industries.

Kongsberg Innovation is one of Norway's leading innovation companies located in Kongsberg. Our competence and extensive network contribute to creating development and growth for technology-based businesses, from startup companies to large well-established businesses. In a unique cooperation with the Kongsberg Industry, Kongsberg Innovation, quickly ensure business acceleration. Nordigi provides market leading expertise within hardware and embedded software, industri 4.0 and IoT. Nordigi is also a vendor of hardware and has extensive experience working across industries.

Malthe Winje is a technology company which has a central position within the infrastructure segment. This segment includes water and the sewage industry, building automation, energy production, track and road. We are a partner who delivers the best and most innovative solutions to our customers.
Reduce cost and complexity - fuel innovation, and start building products faster
Leave the data silos behind, the unnecessary complexity, the massive task of building a truly scalable IoT backend.. let Dimension Four handle it for you.