Dimension Four and Tvillingfabrikken
|
Thu Aug 11 2022
Morten Steinvåg, CEO
Dimension Four and Tvillingfabrikken at Norway's largest political gathering; Arendalsuka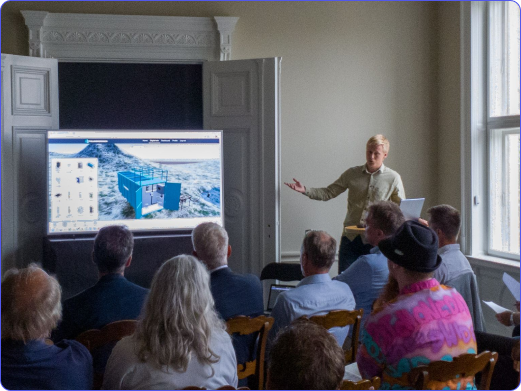 Skien, Norway and Arendal, Norway – August 11, 2022
A long term goal, which has gained an established cross-political consensus, is that as a nation we need to fuel innovation through technology, and that at an increasing speed. At the same time we see that many industries still are at a very early stage with great unrealized potential, especially when it comes to utilizing emerging technology to drive digitalisation. There is however a significant and evolving shift happening. 
How are startups contributing to this, how does the government through organizations such as Innovation Norway, Siva and the Research Councel act as a catalysator in regards to funding and risk capital, how does academica play a role in this, and finally how does this all come together solving customer specific challenges.   
At Dimension Four and Tvillingfabrikken we are, as startups within emerging technologies, fortunate to be a part of this shift, and we are therefore happy to announce the upcoming seminar "How startups digitalize the SME´s in the industry" as part of the program at Arendalsuka, the largest political gathering in Norway.
The joint initiative is done in collaboration with the customer Slamrensing AS, Innovation Norway, the SIVA-incubator Proventia and the University of Agder at Grimstad.
At the seminar you will get the opportunity to gain insight into a practical example of how startups digitalize the SME´s in the industry, through a demo of a customer solution utilized by Slamrensing. There will also be a panel represented by all parties shedding light on this shifting trend, and how the government plays a pivotal role in an initial phase for startups.  
The event will be held at Tvillingfabrikkens venues Thursday 18th August 2022, 0215-0345 PM on the 2nd floor at Kirkegaten 5. Entrance is next to Cafè Victor on the right in the middle of beautiful Pollen in the middle of Arendal.

About Dimension Four

Dimension Four offers an agnostic cloud-based platform to simplify IoT complexity enabling enterprises to accelerate their digital transformation and IoT journey, while providing a central source for data collection. The company's end-to-end platform is built with developer experience in mind based on a powerful, flexible and blazing fast GraphQL API. Dimension Four is part of the New Normal Group, a software group with extensive experience in establishing and scaling software companies for exponential growth.
dimensionfour.io   | linkedin.com/company/dimensionfour
newnormalgroup.com | linkedin.com/company/newnormalgroup

About Tvillingfabrikken

Tvillingfabrikken is an early player in the development of digital twins for the industrial and logistics segment. In a market with relatively few players yet, we aim to develop a software platform for operating environments for digital twins. Digital twin technology is expected to revolutionize the way we plan, adapt and control environments for production and logistics, and that is why we also call it  the queen of Industry 4.0. 
Digital twins are powerful tools for planning, budgeting and simulations. By combining the technologies in industry 4.0, connecting sensor technology and big data to AI in visual 3D animations, we can help perfect and optimize production and logistics processes in your plant or supply chain with regard to resources, energy consumption, reduced waste and full visibility of all parts of the process.
tvillingfabrikken.no | linkedin.com/company/tvillingfabrikken